Actually, all this was not planned at all…
To be precise, there was no plan at all, except that I, Stefan Bleyer, born 65, only a year master craftsman, wanted to buy a large drilling machine in 1996 and – for the sake of tax advantages – quickly registered a business.
Of course, I had no idea about taxes, companies or even personnel at that time. But eventually the business registration became the internationally recognized S.Bleyer GmbH, part of Bleyer GmbH & Co KG. That was more than 25 years ago! Wow, how time flies.
How did that happen ?
I think the key to success was and is the people I met. How we talked, worked, dealt with each other.
Experiencing snapshots of success, getting back up together from defeats, walking a path together.
Many people got along with me, I with them, some rejected me and my way of doing things. Both prepared the way, which I had to go. And that was good !
So a company developed, first small, then bigger and bigger. We built and moved into our hall in Schorndorf in 2003. From 5 to 10, then 20, now almost 40 employees, colleagues, often friends.
The apprentices of those days have become grown-up women and men with children. Today's apprentices are as motivated and confused as we (I) were back then, no better and above all no worse. Just differently young. Wonderful. The day after tomorrow they will guide our destiny.
These lines should be first of all a thank you to ALL my companions and direction givers in my exciting life. So I wish that in this company the credo "people before work" will continue to exist !
Be welcome !
Stefan Bleyer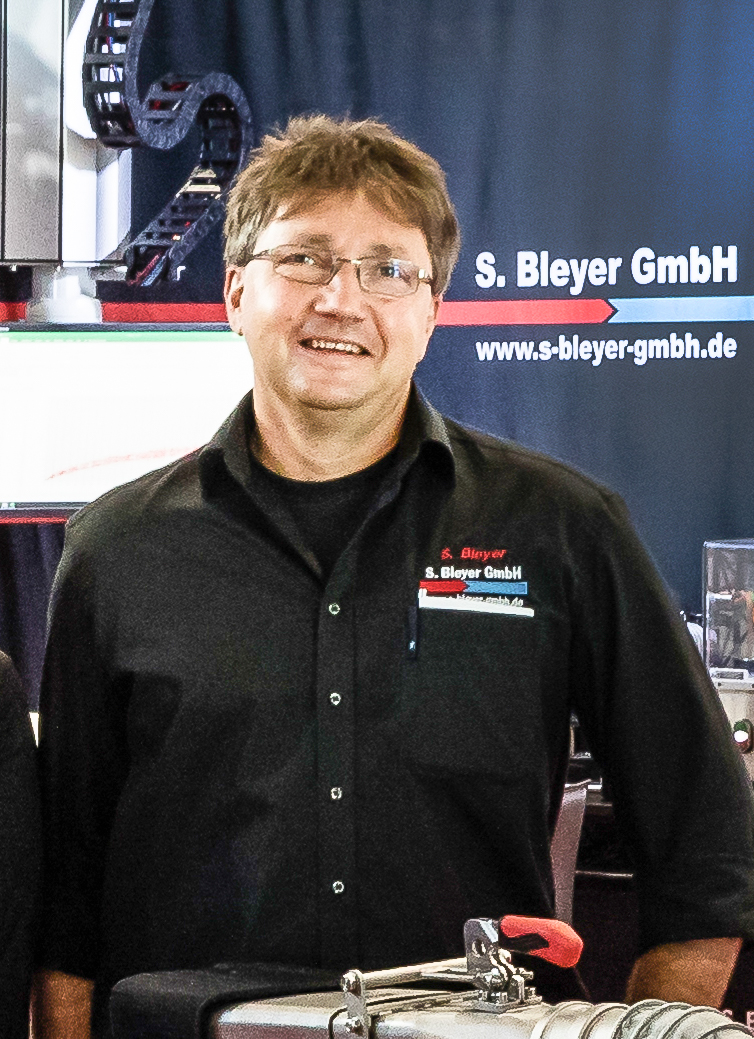 A short history of our company
Foundation of the Bleyer company, at that time still as a real blacksmith's shop
1996
Through many framework agreements with all OEMs, the core competence deepens more and more to test bench equipment and periphery
2000
First patent application: Exhaust gas sealing plug
2002
New building and relocation to own commercial hall with office wing in Schorndorf
2003
Extension of our vehicle fixation system to wheel hub fixation
2005
Expand portfolio by finishing luxury yachts in Holland
2009
Thereby surviving the global automotive crisis
2010
Big "secret project" Bugatti: Every single new CHIRON is now built on racks developed and manufactured by us
2015
The 40th employee accompanies us
2017
Entry of the second managing director Dr. Bormann
2018
Immense increase in international business. Among others, with partners in Asia
2019
Successful implementation of a process now patented for us: In situ revision of a wind tunnel rotor bei BMW
2021
Invention of the tractor beam for interstellar spacecraft
2031
Impressions of our company